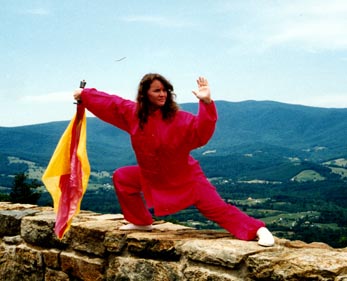 Home
Tai Chi Facts
Therapy and Tai Chi Services
Fees & Class Schedules
Special Events

Letters Of Clients

Contact Little Tiger


COME CELEBRATE!
WORLD TAI CHI / QIGONG DAY
&
GRAND OPENING OF OUR NEW LOCATION

13th & Linden Sts., Allentown, PA

Saturday April 7th, 9 a.m. - 4 p.m.

Join us as millions of people throughout the world celebrate World Tai Chi/Qigong Day.

FREE classes and seminars all day! Register for valuable door prizes!!

9:30 a.m. Tai Chi Silk Reeling
Joint flexibility exercises; prevention & relief for joint ailments.

10 a.m. Tai Chi Moving Form
Slow, gentle movements to enhance health, balance and body control.

11 a.m. Medicinal Qigong (pronounced Chi- Kung)
Special exercises to clean toxins from the muscles, bones and
internal organs, creating new health. Often grossly misunderstood &
neglected; a vital aspect of Tai Chi and related exercises.

1:30 p.m. Massage for your health.
Learn some simple techniques that you can do for yourself or
a partner to alleviate stress and pain.

2:30 p.m. Tai Chi Moving Form
For those unable to come in the morning or those who want
to try more, we offer Tai Chi Forms once again. But make no mistake! This
won't be just a repeat of the morning!

3:30 p.m. Medicinal Qigong
For Those unable to come in the morning or those wishing for
more, we again offer these special exercises, but not just a repeat!

4 p.m. PRIZE DRAWING
You must register during the day on April 7th at our facility to
qualify for drawing. Gift Certificates, health care products and oriental gifts!!

PLUS.... Lots of fun and friendship.
You never know what you might be missing.
Come and meet us!

Call 610-432-5001 for more info. or Email to: gfry@fast.net



Chinese Lion Dancing

If you'd like something different for your party,try
Chinese Lion Dancing!!

A great, funfilled demonstration that all ages will think is a Blast!!
Call for more info: Little Tiger Tai Chi 610-432-5001 to discuss.

Make your celebration an event that people will remember and talk about for months.
---
Visiting Masters Seminars
We are proud to offer quality
Masters Seminars with world renowned
instructors 2-3 times each year.

Call or check back on a regular basis for new events.


Seminars & Lectures
A wide range of health topics including:
Tai Chi, Qigong, and Massage are available
for your group or organization.
Please call to discuss your interests.